Please note that this anti-diet gift guide contains some affiliate links. If you choose to purchase any of the gifts, I may earn a commission from the sale at no extra cost to you, but you will be helping to keep feel good eating™ running. Thank you for your support!
Put the "transform your body" book back on the shelf and back away from the step counters…
…And to answer your question, No. In no universe are a set of bathroom scales a thoughtful, appropriate gift. Just NO.
But we have all done it. Buying a family member or friend a gift that is steeped in diet culture.
I certainly have. I once bought my mum a subscription to a 'healthy recipes' magazine that always had a 'thinner is better' undertone to them. Sorry, mum!!
Finding anti-diet gifts can be tricky, because there is always that risk that while the gift seems innocent and anti-diet on the outside, on closer inspection you can smell whiffs of stinky diet culture.
So, if you are looking for a gift for a loved one that will support their physical and mental health rather than harm it, here are my picks (the majority of which I have personally tried and tested).
anti-diet gift guide
These gifts are in no particular order, but if I had to pick a favourite or 'must have', Intuitive Eating would be it. It is THE go-to book for rebuilding a healthy body image and making peace with food.
Wherever I am referring to intuitive eating, it is within the context of what I have learnt from this book.
It really is the first place to stop and spend some time on the road to food and body peace.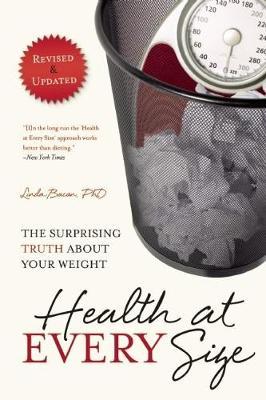 This book is for the science lovers out there. Health at Every Size unpacks the compelling research behind why the pursuit of weight loss doesn't work and is harmful to us as individuals and as a society. And it offers a weight-inclusive option for taking care of our health in the body we have now. This is another must-read for anyone wanting to learn more about Health At Every Size, size diversity, intuitive eating and the non-diet approach.
I had to add Body Kindness to the list because it is Just. So. Darned. Pretty. It is a colourful and tactile book based around Rebecca Scritchfield's three pillars of body kindness: Love (make choices from love), Connect (check in with your body and respond to your needs) and Care (commit to your self-care). There's also heaps of practical advice to start being kinder to your body today.
Dubbed 'inspiration in a tin box' these cards are perfect for anyone who enjoys positive affirmations. Each tin contains stacks of positive, supporting and affirming messages about food, body and eating. Choose a card from the deck and use it to set the theme for your meal/day/week/journaling. I still haven't been able to pick which card is my favourite!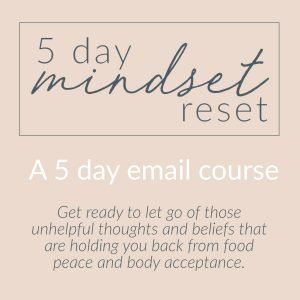 OK, so this one is a bit of a shameless plug for my own mini-course! The 5 Day Mindset Reset is a fast-paced five-day course all about challenging common beliefs and shaking up attitudes around food, diets, weight, health and wellness. It is designed to get you thinking about your own mindset and whether it is still serving you well. P.S. I have a bunch of other online programs you might also like here.
If you want to buy this as a gift for someone, please get in touch with me directly.
This is an uber-awesome gift – one that you may like to give yourself! UNTRAPPED is a 12-week masterclass that will help you to live without restrictive dieting or diet mindset, to enjoy natural eating, to embrace meaningful and joyful movement and to nurture a truly respectful and caring relationship with your body. Not only is it packed with anti-diet goodness, but you are also supported along the way by 13 ah-mazing guides (like the girls from Moderation Movement and Body Positive Australia….oh and the HAES queen herself Linda Bacon)
I have admired Fiona Hay's fat positive art in a number of colleagues offices, so I knew I had to add her to the list. But I was pleasantly surprised when I looked up her details, that in addition to her illustrations, Fiona also creates really cute jewellery. As someone who lost her creative flair for over 10 years to body image and disordered eating, I think she has found a great outlet for her recovery!
This spoon was created by Dietitian Rachael Bradford to provide a visual "gentle reminder and reassurance that food adds value to your world in a positive, nourishing and nurturing way" It makes a beautiful and meaningful addition to anyone's kitchen.
Those legends at The Moderation Movement have put together two e-books: one on nourishing your body and one on movement. I particularly love the movement e-book because there is not a lot out there (or that I have come across anyway) that really taps into improving our relationship with movement and how we relate that to our body. These e-books work really well as a twin set, so it helps that they are quite affordable.
Rachele Cateyes is a fat positive and pro-intersectional feminist, artist, vegan and queer fat femme and the creator of the famous No Wrong Way To Have A Body illustration. She actually has a bunch of other fat positive designs available that can be turned into almost anything – a t-shirt, phone cover, mug, cushion cover – you name it!
do you have any other anti-diet gift ideas to add to the list?
Originally published December 2017.